The role of building trust and a bond as a leader is probably one of the most difficult things to do in sports or work environments.  Getting it right has huge payoffs on multiple levels. The physical movement explores why and how.
August 6, 2020 would have been my Dad's 83rd birthday.
I miss him.
He passed in 2016. He had a saying when asked how he was doing, he would respond "better for seeing you".
Dad had a great ability to connect with people.  He had a genuine interest in how others were doing.
This was not an accident.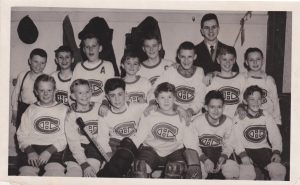 Coach Bill Lawlor with Verdun PeeWee Canadiens approx 1960.
After a lifetime of coaching and teaching he developed the skill and had a genuine interest in connecting. It was important to him.
He got energy from the connection. He made people feel at ease.
He never focused on himself. It was always about the other person.
The connections ran so deep that his students and athletes often became friends for years. At his funeral in 2016, one gentleman approached me and said that Dad changed his life.
Not ever having met him, you can bet I was curious as to how.  Dad had coached him as a youngster in the 1960's. He was his peewee hockey coach. He said that the year he spent playing for Dad changed his confidence and his overall outlook on life. Playing for Dad made him a better person.   You can imagine the impact of hearing about that impact at his celebration of life.
I have thought often of that interaction in the 5 or so years since.  To have that kind of connection and impact was something special.  The gentleman I spoke to had not spoken to Dad in over 40 years. He saw the obituary in the paper and felt pulled to attend the funeral and pay his respects. He felt so strongly that he approached his son and communicated how he felt.
We spoke for 45 minutes.
This was part of a pattern I had witnessed over my life.
Not just teaching, but also coaching.  This was the first person who spoke to me about the impact of having Dad has a coach, others approached me about his impact as a teacher.  Dad had spoken of coaching for years prior to his teaching career.  He spoke of coaching many who went on to accomplish a lot in sports, hockey specifically.  I had never thought of the potential role Dad had played in their development, perhaps as simply making sure the experience was positive.
One event as a child stuck with me all these years. At a Montreal Canadiens game in the early 1970's Dad and I settled into our seats to watch the warmup. (This is a thing for hockey fans!).   I would have been maybe 8 or 9 years old. He suddenly said. "Hey, so and so is on this California team". I said who is that? without missing a beat he said "c'mon!". We scurried down the steep steps of the old Montreal Forum and made our way to visiting team's players bench. (Imaging trying to do that today?).  Under the watchful eye of the local constabulary, he proceeded to lean over the boards and call out the name of the player in question.
The player stopped, came over, saw Dad and had a big smile.  The experience was surreal.  Dad had a 5 minute chat with the Craig Patrick, who was very gracious, introduced me and before I knew it, we were heading back up to our seats. All during the player's warmup?
Without announcement. I was stunned. 45 years later I still think about the connection that led to the Mr. Patrick coming over with a smile to talk to Coach Bill Lawlor.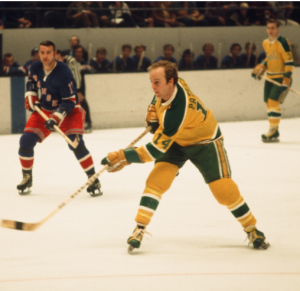 (Craig Patrick played for the California Golden Seals from 1971-1974. He was inducted into the Hockey Hall of Fame in 2001 as a builder, was GM of The Penguins during their cup run in early 90's and assistant GM of Gold Medal Winning USA Hockey Team "Miracle on Ice" in 1980 Olympics.)
Going through university towards my Bachelor of Education, a teaching degree, my family name was often recognized because Dad had taught in that same faculty of education for over 25 years.  The name was recognized not only as I went through university, and once I started my career as a teacher,  but it started many years prior in high school where teachers would stop and ask if Dr. Bill Lawlor was my Dad?
Once I acknowledged that he was, the person asking would go on and on about how good a professor my dad was, how much they enjoyed him and the impact he had on their development.
Every time.
Every.
Time.
When I think how many times this had happened.  I lose count.  It got to the point as a teenager where I kind of wanted to be a little more under the radar in school, you know what I mean?
Of course, that was short lived,  and I learned to appreciate how powerful that was as I got older.
The ongoing connections did not stop in the classroom for my Dad. They were a springboard for many friendships that continued. I got to meet some awesome people who first connected with Dad as one of his students.
Getting to know  Dad as a professor was one of the highlights of my life.
I got to see firsthand what so many people were raving about as I attended many courses/lectures he led during my time at university.  I was curious, even then.  What was all the fuss about?
In university, I had some experience with other teachers and professors. I had experience with coaches in youth sports.  Very few, if any, had the impact on me that I was hearing about from others about Dad.
Bill Lawlor was outstanding at connecting with his students, his peers and all the support staff at McGill.
There was an ease about him. He was genuine. He communicated well. Him being at ease made everyone else around him feel at ease. When I looked at him with the backdrop of my other coaching/teaching experiences, I was in awe.
He communicated so clearly, without confusion and knew his material so well.  He interacted with students, asked them terrific questions, listened carefully, challenged them, made them  think, was patient and addressed their answers in the context of the material and life in  general.
He connected the material to real life.
He did not dismiss the student answers, even if they were not on point.  He addressed them.
He made a point of knowing everyone's name and referencing it in conversations, even casually.
He had a sense of humor and was not afraid to share some laughs with students.
He had skills that connected with his group.
He provided feedback that was constructive, never demeaning, but always meant to address the point in a context that was supportive.
He was sharp. When faced with a challenging situation, or being challenged, he was able to disarm the situation rather than escalate.
This took tremendous energy, as I observed when he came home at the end of the day when I was young.
He obviously worked on those skills over many years.  He spent so much time studying and preparing the topics he was teaching. He had a big responsibility, preparing young adults for a career in teaching, propelling them to working with the next generations.  He was devoted to his craft.
I think back to all those experiences. The funeral, the hockey game, high school, university.
What creates that kind of impact?
Connection. 
When I think back to the coaches I had as a youth through university, the teachers and professors in school & university, the colleagues I worked with as a teacher, Dr. Bill Lawlor stood out even more.
In watching my son go through high school and his sports programs, the same pattern emerged.  The coaches/teachers that he really enjoyed connected with him.   One of his favorite teachers shared his thoughts on music and those insights connected with Jamie.   The teams he played for where he did not have a good experience, the coach did not connect with him well at all.
I got my teaching degree. Taught school for 8 years. Went into business, and have evolved into an educator within business. I have coached for over 30 years across multiple sports at multiple levels. In hindsight, I am thinking there was never another path that would have made sense considering the modelling I had during my formative years.  Seeing that level of connection firsthand over many years could not help but attract me to trying to do the same.
That level of connection is so special.
We documented John wooden's definition of success here:
In building connection as coaches and educators, there are number of things that come to mind:
The #1 thing valuing how important connection is for the experience to be positive and productive.  Making this a priority in the youth sport experience cannot be understated.  Connection is a skill. Like any skill it needs to be understood and practiced.
This is a leadership staple for anyone who works with or is surrounded by people.  The modelling of connection spills over to the experience of the students and athletes.  The importance of these young people feeling connecting to their team and/or coach is imperative.   Connection, the building of trust and bond with the students/athletes and amongst the group is a determining factor in the quality of the experience for them.
Organizations need to have this on their radar when it comes to establishing performance criteria and skill development for their leaders.
#2 thing to making sure to maximize the connection with those around you is to establish what tools or steps allow you to make the connection. I have highlighted many of the skills that establish a connection with someone.  Many would call them soft skills or leadership skills.
They include:
Valuing the people around you. Getting to know them and being genuine. This is not something you can fake, so if this bores you, then you should not be coaching. Their goals, dreams, and purpose. What is their family life? What do they enjoy? What is important to them?
This is not a tactic for better performance, this is an actual perk to the work.
Building communication skills. 1 on 1 , in a group, in writing and in person. On the phone and via email. To parents, peers, and your athletes. Improper or Lack of communication are toxic. A good communicator stands out from many and enhances the experience multi fold. Knowing the names of those you spend time with is important and part of being a good communicator.
Sense of humor is a powerful thing. The ability to laugh at ourselves is the great icebreaker and a sign of ego in check. This is also a skill.  An opportunity to exhale and perhaps even a pivot point to resetting.  Sense of humor without putting others down is also a skill.  Understanding where the line needs to be drawn and holding others accountable is a skill. This is another skill that needs to be valued and practiced.
Be patient. Nothing worthwhile is built in a day, a season or calendar year. In a drive through world, patience is valuable. The process of getting better as a leader takes time and experience.
Have your priorities in check and strong sense of purpose. The purpose of being a coach or educator is ____________. Write that down somewhere.  Don't forget it, and do everything you can to get better at it. For those of you thinking the purpose is to win, well that is off the mark. I would make the argument that connecting puts you and your team in a better position to win, but that is not the purpose of being a coach.
The Physical Movement explored why winning does not equal success here: https://thephysicalmovement.substack.com/p/why-winning-does-not-always-equal
Know your subject matter. Competency in teaching skills towards development is another staple to building trust and a bond. Similarly, not knowing your subject matter can destroy it quickly. Continue to learn everything possible to stay current in the subject at hand. If it is a sport, continue to learn about the game. If it is a school subject, then knowing the material very well.  This includes being prepared and attention to detail as cornerstones to knowing your subject matter.
Your ego goes to the back seat. Needing to be the center of attention is the role of the performer. The coach is not the performer.
No room for insecurity. Very difficult to coach or lead effectively if everything that goes wrong threatens your sense of self. Coaching at a high level can come with minimal job security, but that can not be the driving force behind coaching.
Ongoing learning. Never stop learning. Kids are different in many ways today vs 30 years ago. One of our first interviews, with Jerry Weinstein (60 years in baseball) kept coming back to the importance of ongoing learning.
Here is the Jerry Weinstein interview:
https://thephysicalmovement.substack.com/p/an-interview-with-jerry-weinstein
A coach is a teacher.  A coach can make an impact positive and negatively to those under his/her watch. A coach needs to do everything possible to make that connection and impact with their students and athletes.  That is part of being a coach.
If you think back to the coaches/educators that influenced you, what did they have in common?
Chances are they made a connection, just like Bill Lawlor did with me and so many others.
Call to Action: Organizations, you need to add this to your coaching certification curriculum. Guide and show your coaches the importance of connection in developing good people.  Explore why so important and hold them accountable on the HOW. Your organization will flourish where it matters as a result!
Like this?
More articles like this here:
https://thephysicalmovement.substack.com/